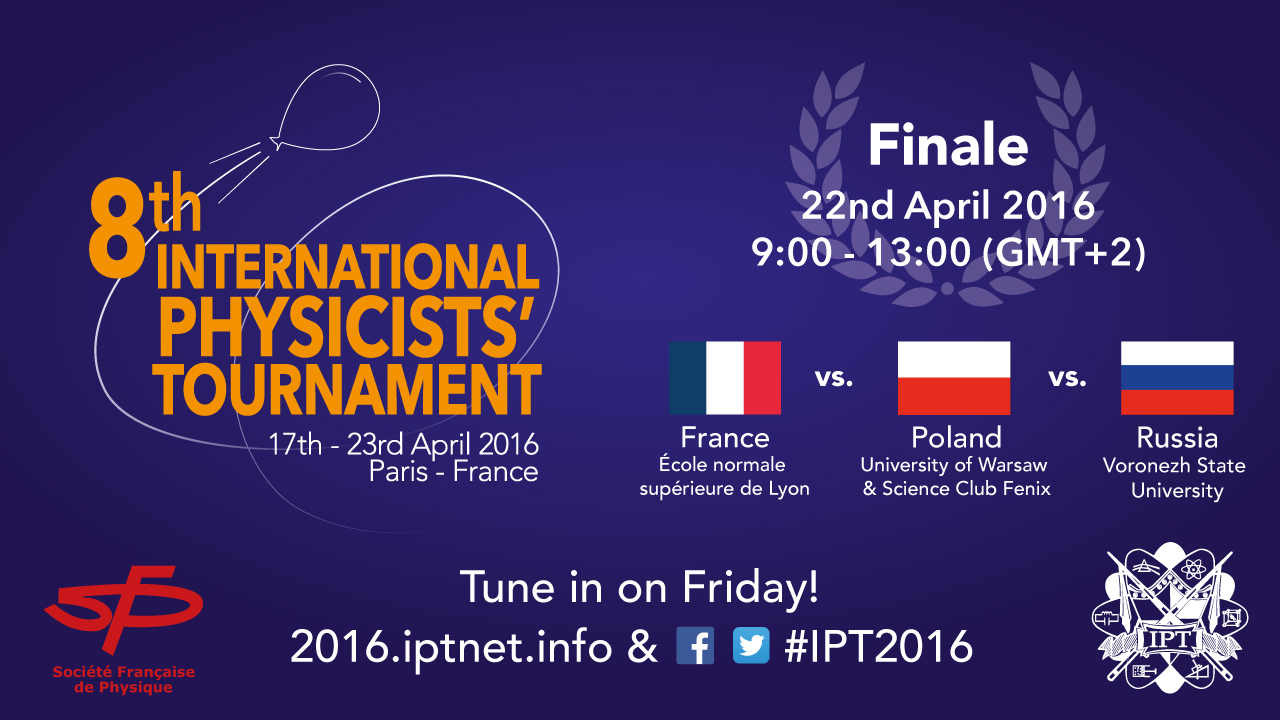 Teams
After three days of selective Fights, the three best teams are:
France: ENS Lyon
Poland: University of Warsaw & Science Club Fenix
Russia: Voronezh State University.
These teams are then selected for the Final!
Problems
The problems presented will be:
France: Problem #12, "Half empty bottle"
Poland: Problem #16, "Magnetic cannon"
Russia: Problem #9, "Sultry day".
For a complete description of the problems, see here.
Jury
The Jury is composed of:
Sébastien Balibar, French Academy of Sciences (Académie des Sciences) – President of the Jury
Michel Spiro, president of the French Physical Society (Société Française de Physique).
Yves Bréchet, French Alternative Energies and Atomic Energy Commission (CEA), Member of French Academy of Sciences (Académie des Sciences)
Jean-François Joanny, Director of ESPCI Paris
Erwan Allys, Team Leader of team of France (ENS Ulm)
Georgia Virginia Panopoulou, Team Leader of team of Greece (University of Greece)
Dmytro Oliinychenko, Team Leader of team of Germany (Goethe University Frankfurt am Main)
Thomas Flynn, Team Leader of team of United Kingdom (University of Nottingham)
Vladimir Vanovskiy, Secretary of the IPT.
The Chairman will be Maxime Harazi, President of IPT 2016, and he will be assisted by Vivien Bonvin, President of the IPT.
Access
The Final will take place at ESPCI Paris (access). It will start at 9AM sharp and should end at 1PM. This is a public event, but number of seats is limited. People who won't be able to enter the room will be guided into another room where the Fight will be live-streamed.
Live broadcast
For people who cannot make it to Paris, please note the Final will be live-streamed on this page.